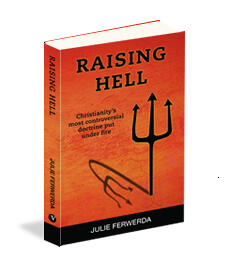 RAISING HELL
Christianity's most controversial doctrine put under fire!
By Julie Ferwerda
---
About The Book
Have you ever considered the apparent injustices, inconsistencies, and even contradictions of the doctrine of hell? For starters, do earthly parents love their children more than God? Does God ask you to forgive your enemies when He is not willing to do the same? Is being punished forever for sins committed in a short lifetime really "justice"? Does everybody really get the same fair chance to believe in Jesus before they die? If hell is the worst possible fate of mankind, and if God is truly loving, then…- Why did He fail to mention hell in Genesis as the price for sin?
- Why doesn't the Old Testament ever teach about or even mention hell?
- Why does Paul, the apostle to the non-Jewish world, never once mention hell?
- Why was hell not the orthodox position of the early Church for five centuries after Christ?
- Why can the most studious theologians not agree if we are saved by election or free will?Dare to question. What have you got to lose? If you've ever had doubts or questions about the incompatibility of eternal torment with a merciful God, Raising Hell will open your eyes to a radical view of God's loving purpose for all humanity and what the "Good News" is really about. Picking up where Rob Bell and others leave off, Julie Ferwerda offers compelling evidence historically, philosophically, and scripturally as to why the doctrine of eternal torment is the biggest and most damaging deception of the modern Church.What people are saying about Raising Hell..."Such a book as this is seriously needed to liberate people for a loving God!" Fr. Richard Rohr, O.F.M., Author of Falling Upward and Immortal Diamonds"The traditional view of hell is highly contestable. If you're ready to venture into some new territory, Bible in hand, you'll find Julie Ferwerda to be a wise, patient, and intrepid guide in Raising Hell." Brian McLaren, Author of A New Kind of Christianity"Raising Hell is one of the first books I recommend to anyone who has questions about hell." Kevin Miller, Director of "Hellbound? The Movie""Julie has devoted a great deal of time and energy to producing such a well-researched and well-written book—probably hundreds of hours! She is right on target in saying that we really need to understand the intent behind the Hebrew Scriptures in order to be able to properly interpret them." Boyd C. Purcell, Ph.D., Author of Spiritual Terrorism: Spiritual Abuse from the Womb to the TombText
---
About The Author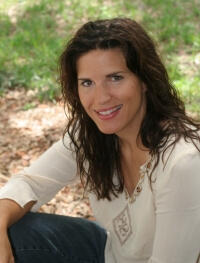 ---
Julie Ferwerda is recognized for teaching Scriptures with compelling simplicity, making them relevant and exciting for all ages. She has authored several inspirational books and hundreds of articles, encouraging people along their faith journey.Learn more and follow Julie on: Facebook »Find me on Patreon » | Find us on Facebook »
---
Reader Reviews
It's one of those books you say WOW, WOW, WOW while reading it!" –Sisterlisa

"IT'S AWESOME!! A great read; it keeps your attention and is so well written. All the points are presented so clearly and organized step-by-step. I'm really impressed!" –David

"Thank you so much for the PDF book. I've started reading it. It is so filled with the Love of God already and I've only read a few pages! I live in South Africa." —Mike

"Excellent job with the research Julie. Being very open with your research and methodology makes it easy to follow, and difficult to argue with." –Jim

"Started the book...so amazing. I'm going to have to buy half a dozen when it comes out to share around!" –Grace, Australia

"In the last two days I have finished about 15 chapters in Raising Hell. Girl, you have done your homework! Can't wait to read a whole lot more tomorrow." –David

"So right this MINUTE, I am sitting here in my little public library with tears streaming down my cheeks. Your book, Julie, it's beautiful." –Brittany

"I am loving this book…my sister forwarded it to me! Your flow and your wording speak right to the heart. Thank you so very much for sharing all your findings with us!" –Amy

"Just finished the book. Loved it. Thank you for all of the time and research that you put into it. Love Wins was more about asking great questions, your book is about great answers." —Tyler B.

"Holy Cow, Julie! I love this book! It addresses so many questions that I have had throughout the years and makes sense of the ideas and thoughts that I have had. Thank you so much for writing this! Your dedication to God's truth is a breath of fresh air!" –Barb

"I am really diggin' (and LOVIN') this book! I REALLY like the way you write! Well, well done! I'm extremely impressed, and when it comes to topics like this being presented, I don't impress easily." –Jonathan Henschel
More reviews »
"Julie, I just want you to know how much I am enjoying your book. I feel like all my thoughts over the years are being articulated! I am grateful for your research, time, intellect, and most of all your consistent unwavering love for Jesus. I'm excited to continue reading!" –Mimi Henderson

"I just knew it!! I knew God's Mercy extended far more than traditional teaching. I am almost finished reading your book, Raising Hell. This makes more sense!! I want to thank you for doing such an extensive and thorough examination of the scriptures on the subject of hell. Such a HEAVY...HEAVY burden has been lifted." —Lydia Foster

"Thought provoking, enlightening and just plain revelatory!!!! So much time and effort was put into getting into the true meaning of original scripture. Such as shame that we would remain in darkness and that others would deem it necessary. Purchase and read it for yourself!!!! You will be amazed to learn how much God truly loves each and every one of us!!!!!" –Diana

"I FRIGGIN LOVE YOUR BOOK!!!!!!!!!!!!! Bravo, Julie!! This ex-Pastor gives you a hundred thumbs up for your scholarship, research, passion and immovable and probing heart. I am a HUGE advocate of this book—it is probably on my top ten books of all time. Don't hesitate buying a copy today with my HIGHEST recommendation." –Terre

"If you've ever felt an inner conflict with what the scholars and pastors of orthodox Christianity teach about hell, vs. what you feel in your heart about God's love...READ THIS BOOK! Let go of the notion that only pastors or scholars have the key to answer your faith questions. The Bible was written for everyone to study and discern its meaning. You have nothing to lose by reading and deciding for yourself whether or not 'the king is naked.'" –Barb Riley

"All in all, I found this book to be a very welcome addition to the growing list of books about [Universal Reconciliation], and I feel it is quite likely that it is the best book on the subject to read if you want a clear, easily readable, scholarly introduction to the subject. If your life has been changed by Jesus but you can't reconcile His love with His justice, please consider reading this book. It may just make you fall in love with Him all over again." –Michael

"Truly amazing book—long needed as hell and a punishing God has been a major stumbling block to my grown children. Your message, so clearly written and easy to read, resonates powerfully, inasmuch as your scripture examples are among my favorite. I am a trustee of The Center of Theological Inquiry connected to the Princeton Theological Seminary. While not I am not a theologian, your argument is persuasive." –Conrad

"I can heartily recommend Raising Hell as one of the best books I have read on the subject. Julie leaves no stone unturned in her search to find the truth! It is well-researched, convincing, and gracefully communicated. There are many books out there, and no doubt you will want to do additional study but I can think of no better place to start than here. Be prepared to have your faith challenged, your paradigms shattered, and your heart filled with joy and wonderment at the vastness of God's great love!" –Ken

"Ten years ago, I would have called anyone who agreed with what Ferwerda believes a 'heretic.' Now I am beginning to wonder if maybe what we thought was an orthodox view of hell is actually the real heresy. To believe in the doctrine of eternal torment in light of the character of God revealed in the Person of His Son Jesus is difficult. To believe in it in light of what the Scriptures actually say is impossible. My hope is that this historical work will receive the widest readership possible. It's time for people to discover that the Good News may actually be better than we thought." –Dave

"I've spent years and years intensely researching the doctrine of hell, and Julie Ferwerda has done the most comprehensive, outstanding job at breaking down this false doctrine and exposing it for what it really is...a complete falsity, kept up only by tradition. She most certainly accomplishes what the title promises...she raises HELL and puts it under fire! I FULLY recommend this book to anyone wanting to dig deeper into this topic. Even if you believe fully in the concept of eternal hell, I would recommend this book as a way to test your beliefs. What do you have to lose? I wish I had hundreds of copies to send to everyone I know! What an outstanding book!" –Steffany

"I don't even know where to begin with your book. I'm not finished yet but you've written what has been in my heart for a while now, marinating, without proper language to express. I feel relief in so many ways—relief that God has used your book to confirm things He has already been showing me, relief that someone else 'gets it!' and relief that your book is so readable and biblically solid. Relief over Good News that is truly Good News! Thank you for being faithful to the Lord's calling for you to write this. Your book is a gift." –Rain

"There are plenty of books questioning this doctrine, Rob Bell's 'Love Wins' being the most recent. But where Rob stops short in specifics, Julie doesn't. …This book is an easy read, and will challenge you to your core…Whether you are willing to accept that we've all been believing a lie all this time or not, at least take the challenge. If you are a preacher who holds to this doctrine, you might want to avoid this book unless you're willing to accept the possibility that you were lied to in your seminaries. Julie is very convincing, and I see the truth to be on her side. I highly recommend this book. –Phil

"In Raising Hell: Christianity's Most Controversial Doctrine Put Under Fire, author Julie Ferwerda lays out, in a very conversational style absent any of the usual theological mumbo-jumbo, a step-by-step journey through all the reasons for taking a closer look at what scripture teaches with regard to God's plan for all humanity, both believers and non-believers. Julie tells her own story of discovery, references scores of scriptures, examines historical and cultural context and includes the testimony of expert scholars to present a thorough rebuttal to the traditional defense of this doctrine. Read Julie's book and you will have a firm grasp on the legitimate reasons many believers are boldly able to say the doctrine of Hell is a hoax. It's not just wishful thinking to say that, it's what the Scriptures teach. Let Julie explain it to you by reading her book! [Editor; HellHoax.com]" –David

"Julie has written a book that will take its place among other fine texts in providing a beacon of hope and light to a world suffering under the fear and torment of fundamentalism. If you have been haunted by the teaching that says your loved ones are heading to a hopeless, painful eternity, take the time to read this well written and documented treatise on the issue, and spend some time on your knees thanking God that He truly is love. The Bible says that Jesus came to be 'the Savior of the world' and that if Christ was lifted up (on the cross) that He would 'draw all to Himself.' Man has claimed for fifteen hundred years now that God will fail miserably in this mission. Julie will destroy this notion and help you to dispel the darkness of such a maniacal doctrine. I cannot recommend this book highly enough. It is on my list of books to offer to those I meet who are trapped in the depths of despair." –Leonard

"Raising Hell, is a beautifully written book of deliverance from the oppressive torments of theological hell. You are about to joyfully discover that critical theological teachings are wrong. Dead wrong. Julie handles the original language and ancient history better than many a veteran biblical scholar, inviting us off the 'calf path' and onto the lighted path of spiritual truth. She encourages lay people to take hold of their own relationship with their 'first love,' to take an honest look at the text, and take victory over the distortions and dogmas we have inherited from eons of 'well established precedent.' …How exciting to find, that the Creator of the Universe really turns out to be far more loving, all-powerful and life giving than we ever hoped or imagined! He is All in All!" –Kelly

"I absolutely love this book! Julie takes your hand and leads you seamlessly and methodically through her own personal journey in finding out what exactly 'hell' is and why we have come to believe what we believe. There is a lot of 'elbow grease under the hood' in this book…meaning she did her homework! I appreciate the amount of work she put into studying and going over the scriptures in the original Hebrew and Greek. I love the open and honest discussion of all the hard questions she had herself about hell and then she proceeds to work through each and every one! So if you're ready for a taste of truth and freedom and are ready to shed the orthodox view of what we have been told about hell, then you are in for a great awakening! Raising Hell confirms what my heart has always truly felt! That my Heavenly Father loves me unconditionally as well as all the rest of His kids (and yes! that means ALL!) and that His desire is to be reconciled and restored into relationship with each and everyone of us for all eternity. Now that my friends is good news! Awesome news! The full gospel!" –Becca
---
Order Raising Hell
For the best reading experience, we encourage you to order either a paperback or eBook copy from Amazon.com. If you cannot afford a copy, live in a country where the book is not available, or simply want to begin reading right away, then we invite you download either the full length version or the Short & Sweet abridged version. Both can be read on any computer. (You may need to right-click with your mouse and choose "Save link as...")Short and Sweet abridged version:
download a free electronic PDF copy »
(120 pages - published June 2016)Full Version:
download a free electronic PDF copy »
(297 pages - Original Full Length version)Controversia Infernal (Spanish Version):
download a free electronic PDF copy »
(17MB/150 pages - Spanish version - published February 2019)For bulk orders of 10 or more books, please see the Bulk Orders section below.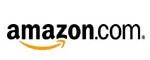 ---
Paperback Book
For single copy paperback book orders, the full length, abridged, and Spanish versions Raising Hell are available for $9.99 or less exclusively at Amazon:
- Short & Sweet Abridged Version »- Full Version »Audible Audio Book
The Audible version narrated by Julie is available on Amazon:
- Short & Sweet Abridged Version »- Full Version »Kindle E-Reader Book
The full length, abridged and Spanish versions of Raising Hell are available as an eBook starting at only $0.99 exclusively from Amazon.com »
---
Bulk Orders
To qualify for the special bulk order discount, you must order 10 or more books. You can pay via PayPal, Zelle, or Venmo.Full Length (English) - U.S. Orders
The cost of each book is $5.00. There is a $1.00 per book shipping surcharge for U.S. orders. Please use the contact form below and we'll reach out to you with details about placing a bulk order. Please indicate which version you'd like to order as well as the number of copies.Short & Sweet (English)
The cost for the Short & Sweet abridged version is $1.50 which includes shipping. Please use the contact form below and we'll reach out to you with details about placing a bulk order. Please indicate which version you'd like to order as well as the number of copies.Controversial Infernal (Spanish)
The cost for the Controversia Infernal Spanish abridged version is $3.75 which includes shipping. Please use the contact form below and we'll reach out to you with details about placing a bulk order. Please indicate which version you'd like to order as well as the number of copies.Should you have any other questions, please use our contact form. Thanks for helping to promote Raising Hell!
---
Contact Us
The best way to contact us through our Facebook Page or using the form below.